LOL, just had a good laugh. Stumbled upon it researching a scammer.
Here are their "members" from front page: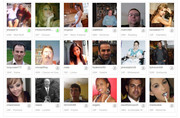 as you can see, everybody there is a mugu, except for maybe martin360 and SEWHAWLK.
Tried to register there. Got this message:
Prohibited Country


We're very sorry, however, due to high levels of abuse, at this time we are not accepting registrations from your country.

We are investigating other ways to prevent abuse without having to restrict registrations from certain areas.

We hope you understand as the protection of our users is very important to us.


Thank you,
PairPeople.com
I am on a normal provider's American IP, not a proxy, not a VPN, a California IP from AT&T.
So, the US is a dangerous country, with high level of abuse. And Nigeria and Ghana are apparently welcomed!!!