i've a friend who is in r'ship with someone he believes is a woman called jennifer mills, who looks like this. he refers to her as his gf/missus.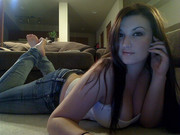 we are both disabled, we live in a care home, she is clearly not & does not. he has a head injury & a vivid imagination, his short term memory is affected but he believes there is nothing wrong with him. i didn't know him before he became disabled. i heard someone on the end of his phone shouting "you pay, you pay".
he is better on the computer than i am & i can't believe he hasn't checked info for her. he won't let anyone see/use his phone/laptop. He won't talk to anyone else while chatting to her. he doesn't sleep well, he tells me he is often up all night & always looks exhausted. any info asked for re her is met with snapping .
there is a carer where we both live who is from africa, who told my friend it was a scam. i had figured this out long before this as he has lived here for a yr & a ½ without a single visit from said "jennifer". said friend shouted. he screamed. he threatened to leave the facility, & worst of all he threatened suicide which terrified me.
he has been taken in at least 10 times, even stealing from me to fund her. as i said he has no short-term memory & i don't think he wants to believe that she isn't real. he talks re their wedding, saying that he bought her a diamond engagement ring. he gets very depressed when he doesn't hear from her.
he said he ended it with her, he seemed a lot happier but her so-called-"friend" contacted him saying she was crying for him. he is a lovely man despite the stealing, but day-to-day he has no visitors. NONE. his parents have nothing to do with him anymore. i have no info on the scammer(who i'm convinced is a man) but what's worse is the facility can do absolutely nothing, saying he has full capacity.
i don't know what to do.