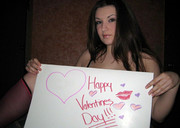 he is infatuated w/ a woman who was & is a porn star. i only found this out cos i thought it was a bit odd he kept mentioning this stunning gf he has who nobody has ever seen. he's brain-injured & looks completely normal. we both live in a care facility. he can do everything i can't. i suffer w/ anxiety & staff always get him for it.
i think him & i are some of the few residents who actually get on & like each other, i literally get on w/ 2 others, everyone else is so difficult i just can't be bothered w/ them & the feeling's mutual – i've been living here for nearly 6 yrs & i can't see it changing. he is exactly the same so i can see why he's been taken in by this person tho all he ever talks re is her huge boobs, how hot she is etc.
he actually thinks she'll visit him, that they'll get married, & he'll leave but of course she never turns up. nobody ever visits him. he has been taken in by this "woman" countless times. the 1st time he threatened to kill himself. he doesn't see anything wrong w/ what he is doing, nor does he see how silly it all sounds, but then he doesn't believe he's injured unless it suits him. he lives online, does banking online etc.
staff say he has full capacity ie knows what he is doing, that they can't stop him, & are not allowed to but i think they should do something. he tells them he thinks the world of me but this must not be true as i don't exist when he believes he's with her. but on the other hand i get on w/ him due to his vivid imagination
what would you do??
stop talking to him??
leave the facility??