I've gotten in contact with a "jerryberry758" on Instagram, he's working as a plastic surgeon for generals (sic!) and soldiers in Iraq, he's posted on a two year contract with the U. N, has 7 months left, has a son, wants to come to live with me for ever and ever…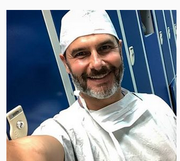 This is, of course, somebody else's picture. Dr. Fernando Gomes Pinto.
I'll send my scammer off into cyberspace after pulling his leg a bit.