Pictures stolen from US weather anchor and reporter Sam Champion
mobile.twitter.com/samchampion
https://en.wikipedia.org/wiki/Sam_Champion
RaymondGray
Email
soharaymond@gmail.com
Gender Male
Looking for Female
Age 54 y.o.
Country United States
City New York
Here for Friendship, Romance, Serious Relationship, Marriage
Marital status Widowed
Sexual Orientation Straight
Children I have 1-2 children living with me
Ethnicity White
Religion Christian
Body Type Athletic
Education Masters Degree
Occupation Drilling Engineer
Description
Personal Description well Am Raymond Gray From the United State but I'm currently in Ireland I'm actually a Petroleum Engineer, I work mostly in the fields and rigs drilling crude oil from the soil, and the high sea I hope that you find me interesting. I work drilling in the southern Porcupine Basin, about 220km off the south-west coast of Ireland.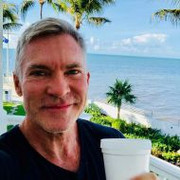 196.52.38.13 SoftLayer; bad IP proxy