...... she appeared just now out of the blue in my DLB-Mailaccount, don't know her.
Kind time of days;)
I want to believe that my message will be read by you.
Unfortunately, travel now almost impossible because of danger covid-19 everywhere. But this is not bad opportunity to get acquainted in Internet. Therefore, if you are interested in my message and do not mind to know me better, I will be happy receive reply from you. What country do you live in?
I first time write the similar letter. I slightly I am confused! I have addressed in agency of acquaintances and have written to you the letter. Actually, I wish to meet serious the man for stable relations and marriages in the future. My main objective - to meet love.
I live in Russia.
My name is Lenochka. My age three times five years.
At the moment I work medical professional.
In the near future have a desire to move abroad. Because at home small salary and not much value employees.
At leisure I visit pool. I like to watch behind the appearance. I like walks on to the nature and picnics. I dream - to travel on globe with the liked person.
You can to respond to me to mine electronic box. I will wait your answer with huge impatience.
I will attach my photo to the letter, and I hope, that you will like me. If you are interested in meeting me, then I will glad see your answer. I have a request to you - write me only, if you are really interested in a serious relationship. If I'm not interested in you, please do not waste my and your time.
Answer me to my mail address:
konffetkaa1985@gmail.com
Bye-bye!
Your girlfriend, Elena.
Received: from [93.178.233.0] ([93.178.233.0]) ..... Proxy
From: Delightful Girl <
l34bpersky@mail.com
>
To:
kusong.lee@icloud.com
Date: Tue, 15 Sep 2020 19:14:31 +0200
Magyr-net
Farlep Invest PrJSC
3 Solom'yanska Str.
Kiev, 03680, Ukraine
Lena-2020.jpg ..... 30.07.20 .... Siberia, Russia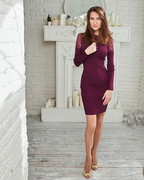 ... RPO is Психолог & Mодель Валерия Лапенко/Valeriya Lapenko - Санкт-Петербург - married
.instagram.com/valeria.lapenko/
.instagram.com/valerialapenko_psy/
.b17.ru/vlapenko/
https:/ /vk.com/topofthescore
https:/ /vk.com/id45557
https:/ /vkfaces.com/star/Валерия_Лапенко
https:/ /вконтакте24.рф/valeriya-lapenko-45557.html
https:/ /list-vk.com/45557/
https:/ /iprofiles.ru/valeriya-lapenko/45557/
https:/ /rusfinder.pro/vk/user/id45557
https:/ /voguegroup.ru/data/id-359539592