WESTERN UNION MONEY TRANSFER
Address: 2554 Route De Lome Togo
E-mail:
westernunion@western-union.online
E-mail:
customer-service@western-union.online
E-mail:
western-union-money-transfer@accountant.com
Web: .westernunion.com
Dear Customer
This is to confirm receipt of your mail and we are here to inform you of your payment of USD $ 800,000.00 that we have in our depository at this office to transfer it to you daily. However, the total payment you will receive is USD $ 800,000.00.
Note:- you will get $ 5,000 every day through Western Union, and your first USD $ 5,000 payment was still programmed on an outbound payment disk that arrived at your designated address.
Here's the details of your first USD $ 5,000 payment, which you can pick up on any currency in your country. We may send your second $ 5,000 payment today until you receive a total of $ 800,000.00 of your money.
But you have to send us 110,00 Euro to get a tax certificate and activation fee for your MTCN code of your first payment of $ 5000 from the federal government before any Western Union office in your country can be able to release your first $ 5,000 payment today.
Tracking # (MTCN):
https://.westernunion.com/global-service/track-transfer
MTCN CODE ............... 6692505040
Sender's name .................... Ikenna Celestine
Amount .................... USD $ 5,000.00
Here are the information you can use to send us 110,00 Euro through Western Union.
Name of sender:.................?
Receiver name: Udenze Johnson
Receiver country: Togo in West Africa
Receiver state: Lome
Text question: Good
Text answer: News
Money transfer control number:..........?
Note; Under the rules and regulations the fee of 110,00 Euro cannot be deducted from your total amount because your fund is covered by securities and no one can afford to take anything out of it until you have confirmed the total amount in custody.
Be aware that this Western Union office is awaiting receipt of a 10-digit MTCN payment card from you, and we promise to send you your first USD $ 5,000 first payment information once we confirm the payment of 110,00 Euro from you today, according to of our arrangement also for instructions from the IMF.
We hope to inform you about your payment information.
Thanks for your good understanding.
Mbanu Charles
Western Union Agent.
Western Union Department of Lome Togo
The information transmitted, including any content in this communication is confidential, is intended only for the use of the intended recipient and is the property of The Western Union Company or its affiliates and subsidiaries. If you are not the intended recipient, you are hereby notified that any use of the information contained in or transmitted with the communication or dissemination, distribution, or copying of this communication is strictly prohibited. If you have received this communication in error, please notify the Western Union sender immediately by replying to this message and delete the original message
ID-MBANU-CHARLES.jpg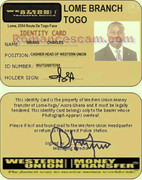 ID-STAFF.jpg