WELCOME TO GUARANTEE TRUST BANK PLC.
RUE 1109 AIRPORT ROUTE LAGOS .
REPUBLIC OF NIGERIAN.
REF NO GTB/XBR/2119/2011
TELEPHONE ;+234 8066106998
FAX NUMBER.+234 8068421931
Dear Customer
We are pleased to inform you that the vetting/due diligence checks on your transaction have now been completed successfully .The outstanding deposit of US$3.800.000.00,Three Million Eight Hundred Thousand United States Dollars) only will be transferred to your designated bank account as we have been instructed.
However, in order to proceed with the transfer of the deposit funds, we have set up a transit account in your name and deposited the total outstanding amount therein.
We are required to offset the applicable non- Africa Residency VAT on the account to enable us transmit the funds to the designated bank account you proved.
This VAT is $125usd.00 since you are not resident in the Republic Nigerian West Africa and also the fund is insured against loss on transit or deductions from source therefore, the VAT needs to be paid before any transaction could be carried out today.
We will only be able to transfer the funds to your account after formal payment of the VAT fee $125usd.00 on the account is reconciled and the documents confirming this payment have been submitted to the Her Majesty Revenue
Services for their records.
Be informed that your funds will be made accessible immediately the VAT fee is paid and all the transaction clearance documents will be copied to you at time of transmission in accordance to the full disclosure act.
The Vat payable on your transaction is $125usd.00 usd only.
This is the Information to send the required fee $125usd.00 today.
Kindly send it via western union or money gram with the Name of our Cashier below;
Receiver Name….. CHUKWUMA MANAFA
Country… .Nigerian
Country Code…234
Text Question; What Color?
Answer…Blue
Amount..$125usd.00
After you sent it then forward the MTCN Number to us here immediately Or call us on phone to give me the MTCN Number for urgent action.
In the interim, we will keep your fund on hold until we receive the VAT
fee after which your fund will be freed up for transfer to your designated account.
Yours Faithfully,
Mr.Abbey Billy
Director Verifications
Guranty Trust Bank Lagos Nigerian
Tel ;+234 8066106998
Fax.+234 8068421931
Guarantee Trust Bank Plc a member of the Northngate Group .
Registered in Nigerian and Wales Registered Office World Bank: No 58- 59 Stone Street , Faversham , Okota ,ME13 8PS,Nigerian .Authorized and regulated by the Financial Services
Guaranty Trust Bank
passport.jpg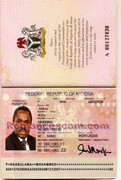 ..... Passport was already in two other Scams under two different Names