http://news.sky.com/story/1519475/inter ... four-years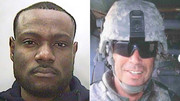 A conman from Cardiff who used a fake internet dating profile to defraud two women out of almost £440,000 has been jailed for four years.
Tosin Femi Olasemo, 27, uploaded a photograph of an American soldier to his match.com profile to convince his victims he was Captain Morgan Travis, a US army officer based in Afghanistan.
Cardiff Crown Court heard the Nigerian national chatted with his victims for hours on Yahoo Messenger leading them to believe they were in a relationship with him.
Olasemo hid his real identity by convincing the women he was unable to chat on webcam due to army security reasons, and he asked them for money to arrange a transfer from Afghanistan.
His first victim was a 47-year-old widow and single parent living in Denmark who sent Olasemo £211,980 and attempted to send him a further £190,000.
The second transaction was blocked when Danish authorities discovered the con, but the woman contacted Olasemo again who persuaded her his identity was genuine.
Prosecutor Ruth Smith said: "Unfortunately, she believed the defendant and remained in contact with him for some time until a lady claiming to be the wife of the defendant contacted her after the defendant had sent her a Valentine's Day present in February 2014."
The victim later visited the UK and when she was contacted again by Olasemo's wife she reported him to police who arrested him at home in Cardiff where they found fake US Army ID cards and an instruction manual about how to talk to women.
Police traced a second female victim, a Polish divorcee also living in Denmark, who sent Olasemo £1,100 before she became suspicious.
Ms Smith added the fraud was valued at a total of £440,000 and that police were working with authorities in Nigeria to try and recover the money.
At a previous hearing, Olasemo pleaded guilty to a total of 12 charges, between December 2012 and October 2014.
They were: Four counts of fraud, three of possessing articles for use in fraud, four of possessing false identity documents with improper intent and one charge of acquiring criminal property.
"It is the prosecution case he used the online dating site match.com to exploit lonely and vulnerable women by representing dishonestly he was an American soldier based in Afghanistan," she said.
"The content of some of the chats was completely designed to play on her emotional feelings towards Morgan Travis."
The court heard a victim impact statement from his first victim, in which she described her feelings at falling victim to Olasemo.
"When I was first told I was the victim of a scam I got very upset," she said. "At first I cried all the time and I was off work.
"I lost a lot of money and the man I thought was my boyfriend. I was terribly ashamed at having been so naive.
"I believed his lies and I felt very lonely. I realised he had wanted me because of my money. I will have to live with the shame of being exploited in the worst possible way for the rest of my life."
According to his defence counsel, Olasemo felt a "deep sense of remorse" for his crimes and wished to apologise for his actions.
According to his defence counsel, Olasemo felt a "deep sense of remorse" for his crimes and wished to apologise for his actions.
That is probably the biggest lie of them all!!!