Scam+Blackmail in german "rbb berlin"
Posted: Mon Sep 03, 2018 11:56 pm
.... Report from yesterday in german TV "RBB" about Romancescam and blackmailing. Starts by 20 min.
Woman from Berlin posted Pics on Instagram and she got a answer from a "frank_owens_loan" ...... Engineer from California who's working on a Oil-platform in Africa .... after some Lovemessages they changed from Instagram to WhatsApp ....they continue to write Lovemessages over WA but she made then a mistake and send him erotic Pics coz he ask for them .... then he called her from a Ghana phone number and she trusted him since "works there" .... on the phone he told her that he intend to visit her on her Birthday .... short before he told her, that he 1700$ to leave Ghana and she should send through WU .... she refused to send this Money ..... she blocked him in WA .... short before she managed to block him also in Instagram he wrote once more and started to blackmail her with her erotic pics coz he wanted to post them on Instagram ... she told him that he can do it coz Police will wait for him ..... she reported him also to the Police .....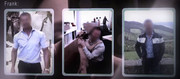 https://mediathek.rbb-online.de/tv/Täte ... d=55636960