this is a continuous discussion of scammers using stolen pictures of Stephen Murphy.
part 1 is here:
http://www.romancescam.com/forum/viewto ... 91&t=23782
" onclick="window.open(this.href);return false;
PART 3......
http://www.romancescam.com/forum/viewto ... 91&t=97417
WARNING: SCAMMERS HAVE IN THEIR POSSESSION A RECORDED WEBCAM OF STEPHEN MURPHY!! IF YOU "SEE HIM ON CAM', IT IS NOT HIM "LIVE" YOU ARE SEEING, BUT A RECORDING. IF YOU ASK A SCAMMER TO WRITE YOUR NAME ON A PAPER AND SHOW IT IN CAMERA, HE WILL REFUSE, OR HIS CAM WILL "BREAK" RIGHT AT THIS MOMENT.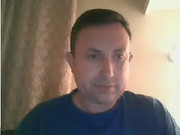 FMF
Georgeey Profile: looking for one man woman
View Comments
Age & Gender: 50 Year Old Man
Height: 5' 7" (170 cm)
Body Type: Average / Medium
Religion: Christian - Other
Ethnicity: Caucasian with Black Hair Color / Blue Eye Color
Zodiac Sign: Leo
Location: Miami, Florida, US
About Me
I enjoy mostly anything from movies and dinner, walk, travelling and camping. Enjoy helping others. I'm the type who would rather go without than to have someone else. I'm generous, sensitive, funny, spontaneous and outgoing
I am look for a woman who will not only listens but opens up to me. Someone who is family oriented, enjoys going out and yet can turn a good movie on and stay in. loyalty and honesty are my main must haves. If there is no trust there is no relationship. No specific looks. Everyone is different and if there is something there you will know.
My Perfect First Date
coffee conversation,dinning out
From: Georgeey
Date: 2013-05-10 01:57 AM
Subject: hello
How are you doing? What a profile and picture you have? I am intrigued you are not taken yet. I don�??t think any man is going to pass by without taking a look at your profile.I am George and in the US army. I am an Engineer in the Army and I am not looking for a beauty pageant, just looking for a good looking woman who will love me, care for me, be honest, family oriented and above all faithful. I want a friendship first then we shall get to know each better,. I was trying to chat with you but it looks like the chat is not working well. Hope to hear from you soon. If you don�??t mind you can send me your email address so that I will send you more of my pics and get to know each other very well, enjoy your day thanks xxxx
Mail address and name I will post as soon as I get an answer