Rosinesmiith
Gender: Female
Age: 26
Sexuality: Bisexual
Looking for: Serious Relationship
Country: United States
State, City: NEW YORK
Marital status: Single
Children: I don't have children
Last visit: Within 24 hours
Profile Information: More Profile Information: Lifestyle
Height: 5'0 - 5'3 (151-160cm)
Body built: Slim / Slender
Ethnicity: White / Caucasian
Religion: Christian
Education: Masters Degree
Occupation: BUSINESS
Personal Description:
AM AN EASY GOING PERSON WITH LOVE AND RESPECT TO GOD AND HUMANITY
melodyphilip4@gmail.com
IP: 45.56.123.119
Hostname: li941-119.members.linode.com
ISP: Linode
bad IP, been used in scams before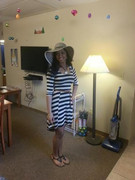 clone: chatblink.com/rosine-smith-29
Rosine Smith 29 years VIP
Rosine Smith 29 Years
Last activity : less than 5 months ago
User name : Rosine Smith
Gender : Woman
Country : United States
City : Kentucky
Age : 29
About me :
It's me Sgt. Rosine Smith from the South Eastern State of the United State (Kentucky) based in Kabul Afghanistan. I am working with the United States Air Force peace keeping troop in Afghanistan, on war against terrorism.