..... before 10min.
Hello my dearest xxxxxx!!! Tell me how is your day and how are you? I was think about you and of course i was miss you. Today very good day.
Its warm weather here) I hope at your place also good weather. I really love spring time. Every thing so green and beautiful my dear.
I miss you. And i cant stop think about my dear. I try to focus at my work, but i cant my dear))) Just all thought about you. But i love this feelings inside me! I really enjoy being able to send letters to you. This is something
which makes my day very special and wonderful. You are the most beautiful part of my life. I am happy to have you in my life now. I cannot imagine ever being without you in my life. I must have you forever and ever.
I believe it will be the best life ever with you in it. I need you to be my great king. My special and precious treasure man who is so very valuable to me. I love all the things you speak of to give to me. Your love, family, support, sex, care, your soul and your heart and even more. These are all important thing for a relationship to work very well. And I would give you these things as well. And I desire to protect you and keep you always safe
and secure so you can live life without fear or hesitation. Do I want to be your woman? Oh, yes, my darling. And so much more. I would hope that we could be wife and husband if all goes well. You are all I desire. You are the most perfect man for me. I am so fortunate to have found you and to have you in my life. My life is already so much better because you are a part of it. You are the best part of my life, in fact. I hope you do not mind sending me more of your beautiful words for me to enjoy and to adore you always. You are the most great of man in my eyes and I shall tell you that for as long as I live. I will close now and hope to read your next letter
very soon. I hope to hear all about your feelings for me and your hopes, dreams, and desires for me as well. Your adoring and devoted
woman Tatyana
...... delivered over Mail.ru
DSCM001097.jpg ... this Pic is nowhere, not in her 3 Instagram or vk.om ..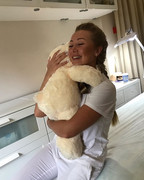 DSCM001098.jpg ........ 05.05.2019